The book
Bitter Chocolate Stories addresses the harsh realism of child labour in cocoa plantations in an unconventional manner. Children who worked on cocoa plantations were portrayed in a pop-up studio by one of the most talented African photographers, Joana Choumali from Ivory Coast.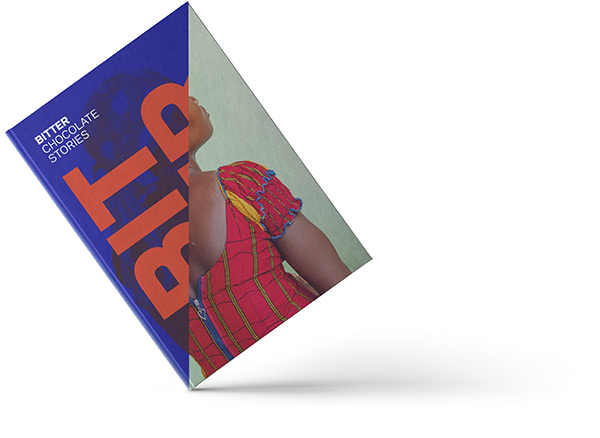 Dutch freelance journalist Marijn Heemskerk made interviews with former child labourers and wrote background texts. Together with infographics, they provide insight into the history of the production of cocoa, the economic and social conditions for farmers in West Africa as well as the initiatives taken to fight child slavery and child labour practices in the industry.
The book also includes drone shots of the plantations as well as words taken from advertising for chocolate. Images taken from international media show that the issue has been in the news regularly. Yet, we proved not to be insensitive to the many calls that were made.
For every copy of Bitter Chocolate Stories sold, 5 euros will be donated to GRADE-FRB's shelter in Burkina Faso, where the children featured in this book were photographed. Located near Ouagadougou (Burkina Faso), GRADE-FRB serves as a rehabilitation and training centre for children who have been saved from forced labour situations.
Order the book and contribute to stopping forced child labour on cocoa plantations.